Pacific Fruit Express 52138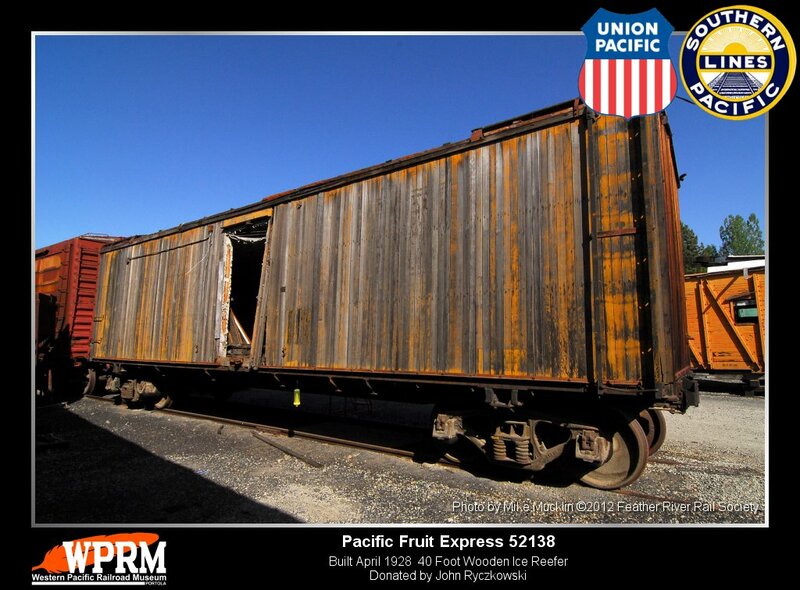 Pacific Fruit Express 52138 was built in 1924 by PFE for the Western Pacific. It is a 40 foot wooden refrigerator car. It still has the original 1924 body.
In 1923, WP ordered 2000, 40 foot wooden refrigerator cars from American Car and Foundry. At the time of ordering, they were to be lettered WESTERN REFRIGERATOR LINE and numbered in series 7001-9000. Before delivery, WP entered into a pool agreement with Pacific Fruit Express to add the WP cars to PFE's large fleet of cars serving California.
The cars entered service with PFE reporting marks and number series, WP emblem and painted yellow sides with boxcar red ends and roof. 52138 has yellow paint on the roof under the box car red, but the body was rebuilt in 1943 so it may have been delivered with a yellow roof.
Pacific Fruit Express reconditioned the best 900 old cars at the Roseville Shops and renumbered them into series 55001-55900 in 1953. They were repainted into PFE orange and retained the WP "Feather River Route" emblem. Steel frame superstructures, electric air-circulating fans, and other modern features were added to make the cars equal in service characteristics to new cars. These cars ran under the arrangements between WP and PFE in effect since 1924, where by the railroad leases its cars to PFE and in return is able to offer shippers full equality of participation in PFE's nation-wide services.
By the mid sixties, mass retirements of wooden cars were made and WP's PFE cars passed out of active service. This ended WP's involvement with PFE.
The car was donated by John Ryczkowski to the museum.