Pacific Fruit Express 52138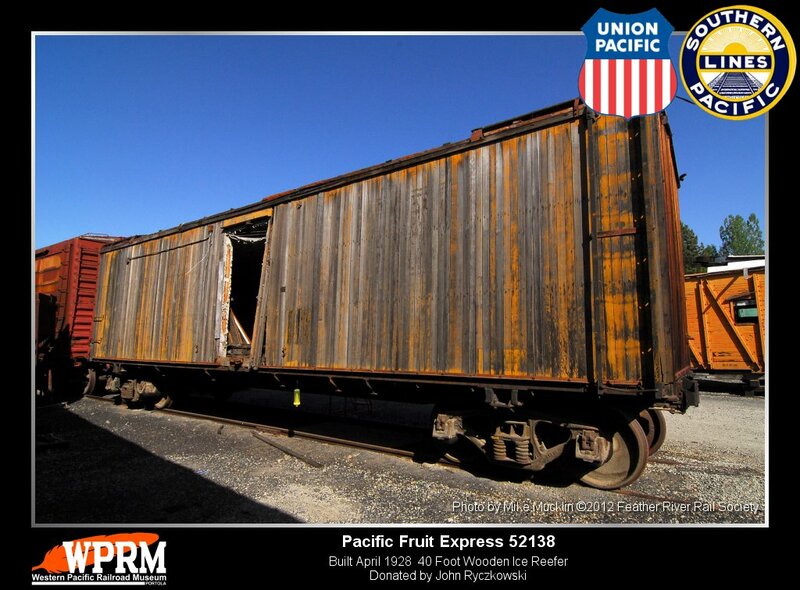 Pacific Fruit Express 52138 was built in 1924 by American Car and Foundry for the Western Pacific. It is a 40 foot wood bodied refrigerator car. When built, this car had a steel underframe, wood superstructure, metal roof, and wood sides and ends. This style of refrigerator car used ice placed into bunkers on the ends of the car for cooling, as opposed to mechanical refrigeration systems.
In 1923, WP ordered 2000, 40 foot wood refrigerator cars from American Car and Foundry. They were to be lettered WESTERN REFRIGERATOR LINE as part of a plan by the WP to complete with Pacific Fruit Express, a refrigerator car supplier owned by the Southern Pacific and Union Pacific Railroads. AC&F built 146 of these cars before WP entered into a pool agreement with PFE to add the WP cars to PFE's large fleet. The original 2000 cars were joined by 775 more in 1924, which included 52138. The cars entered service with PFE reporting marks and number series, WP emblems and painted yellow sides with boxcar red ends and roof.
Starting in 1938, PFE began reconditioning the WP cars. As WP wanted to minimize cost on this work, it was not as extensive as the reconditioning done to PFE's own cars. The WP cars received rebuilt wood bodies, repairs to their metal roofs and new paint. WP declined to have steel superstructures added to the bodies.
Scrapping of older cars began accelerating after 1947, with only 914 WP cars in service by 1950. It appears that WP / PFE 52138 was retired around this time and was not part of the later rebuilding program, thus being a rare survivor without a steel superstructure and added cooling fans.
Pacific Fruit Express planned to rebuild the best WP cars at their Roseville Shops and renumber them into series 55001-55900 starting in 1952. WP requested a minimum cost rebuild so PFE budgeted $10 million for the project. Steel frame superstructures, completely rebuilt wood bodies, electric air-circulating fans, and other modern features were added.
By the mid sixties, mass retirements of wooden cars were made and WP's PFE cars were retired. PFE supplied ice and mechanical reefer cars to WP even through there were no WP cars in the fleet. In 1967, Fruit Growers Express made the Western Pacific a nice offer to join their fleet. This ended WP's involvement with PFE.
The car was donated by John Ryczkowski to the museum.