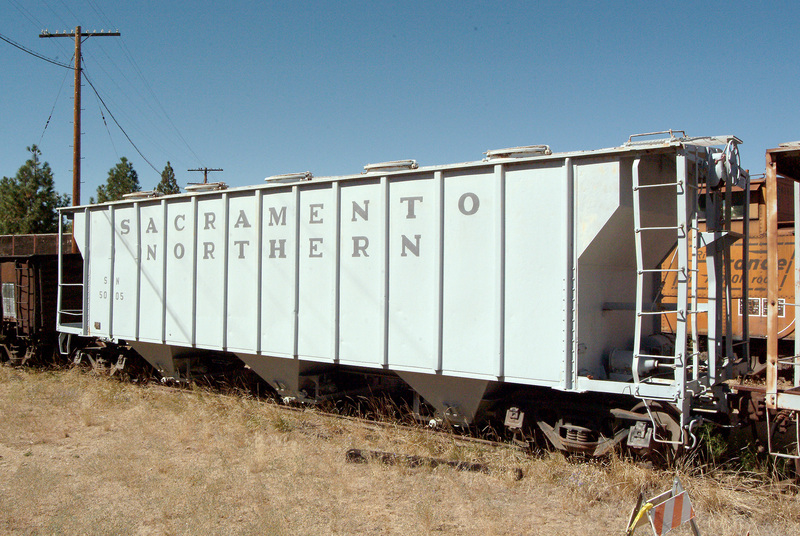 Sacramento Northern 5005 AC&F 3 Bay Covered Hopper
The first batch of SN covered hoppers, numbered 5001-5010, were delivered by American Car & Foundry in February 1958. These were monster cars for their time, with a 47-foot length and a 3200-cubic foot volume. A similar block of Pullman Standard PS-2 cars soon followed in May 1959, numbered 5011-5020 at 3219 cubic feet. Finally, in March 1960, AC&F supplied 5101-5110 at 3500 cubic feet. The latter two groups were equipped with roller bearing trucks, which were also used on most subsequent SN cars.
These hoppers were likely used in rice service, especially from Conaway Farms near Woodland, but may also have been used to ship bulk walnuts from Walnut Creek to Stockton during the harvest season. More often they were found in WP service.
SN 5005 is from the first group of covered hoppers owned by the SN. Western Pacific itself had only acquired its first covered hoppers in 1956 and had received its first 3-bay hoppers just a few months before.
The SN eventually rostered 40 covered hoppers, both flat side, like the 5005, and cylindrical body. This car is the only known survivor of the SN's fleet.
It was donated by Union Pacific to the museum.