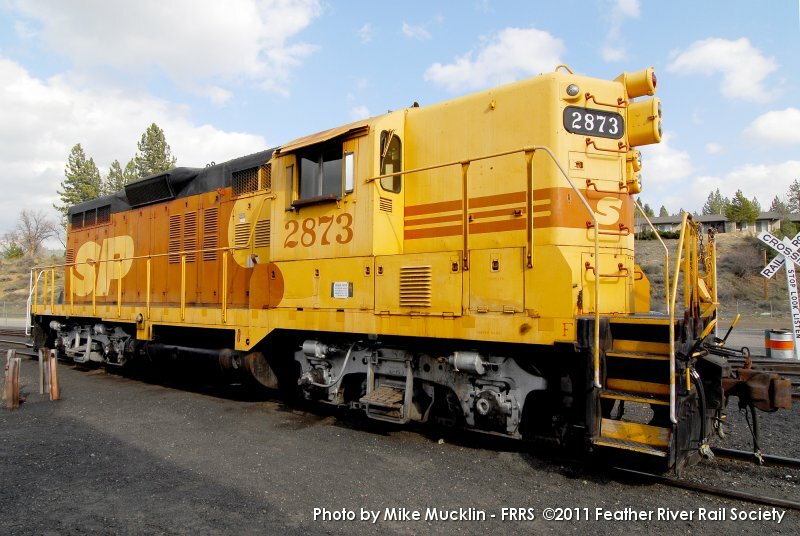 This locomotive is part of our Run-A-Locomotive program, where you get to take the throttle and experience running one of these historic pieces of equipment.
| | |
| --- | --- |
| Builder | Electro-Motive Division of General Motors |
| Built | December 1956 |
| Type | GP9 |
| Horsepower | 1750 |
| Serial number | 22897 |
| Top speed | 65 MPH |
| Operating weight | 247,600 lbs |
| Acquisition | Purchased by FRRS |
SP 2873 was the first high nose SP locomotive painted in the Kodachrome paint scheme.
While the Western Pacific rostered a relatively small fleet of GP9's at eight units, neighboring road Southern Pacific rostered 340 of the rugged road switcher. SP 2873 was originally built in December 1956 as SP Subsidiary Texas & New Orleans 443.
In December 1983, both Southern Pacific and the Santa Fe railroad attempted a merger, creating the Santa Fe Southern Pacific Corporation as a holding company to manage the newly combined railroad. However, in July 1986, the Interstate Commerce Commission denied this merger due to opposition by the US Department of Justice. In June 1987, the ICC denied the appeal by the SFSP, thus ending merger proceedings.
SP 2873 came to the Western Pacific Railroad Museum in 1992 after members found it in a scrap yard in Richmond, California. The FRRS purchased the locomotive and today the engine is used frequently at the WPRM as a yard switcher, in Caboose Train Service, and is a popular locomotive in the museum's Run-A-Locomotive program where our visitors are invited to operate the 2873 under the guidance of a qualified instructor.