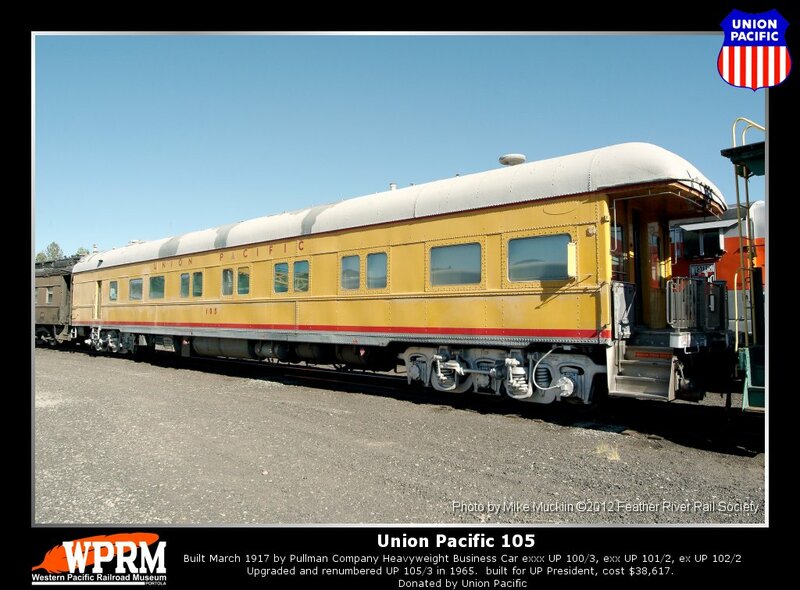 | | |
| --- | --- |
| Builder | Pullman Company |
| Built | March 1917 |
| Length | 82 ft. 4 in. |
| Operating weight | 191,500 lbs. |
| Acquisition | Donated by Union Pacific |
Union Pacific Railroad 105 – Business Observation Car
This passenger car was built for Union Pacific Railroad by the Pullman Company in 1917 for use by UP's President as his own private railroad car. In that service, the care was number UP 100. The car functioned as an office and home-away-from-home for the President during business trips around the Union Pacific's system. When built, its appearance was like other heavyweight cars of the era, including opening sash windows and wooden interior details. It was similar to the Western Pacific business car 106, "Charles O Sweetwood", another Pullman heavyweight car in our collection.
In 1935, the car was completely rebuilt and air conditioning added. At that time, its appearance changed from its as built condition. In 1952, it became number 101 and, in 1957, number 102, each time changing assignments. In September 1965, the car was upgraded once again with new air conditioning and sealed windows, attaining the appearance it has today. The wooden interior panels were covered with Formica and the care was renumbered 105.
Throughout its many rebuildings and reassignments, the 105 remained an executive business car and never saw service as a "regular" passenger car. Inside you will find large bedrooms (for a railroad car), a dining room, a lounge with large windows facing the rear observation platform and a compact but very capable kitchen.
The car was retired and donated to the Feather River Rail Society by UP in 1986, a fine example of a later railroad business car.