United States Army Ammo Car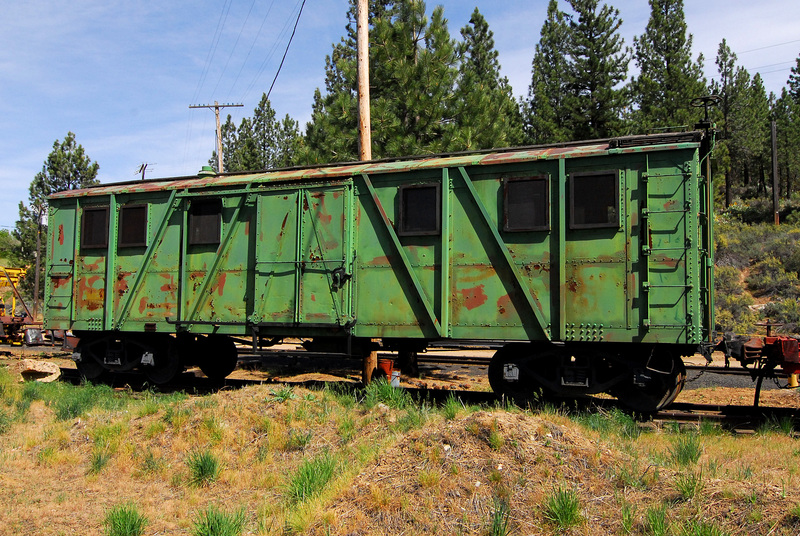 This unusual car has a complex and interesting history. It started out as a US Army ammo car, declared surplus and was then used for payroll and MOW service. It ended its commercial life as an outfit car for the Clover Valley Lumber Company.
It was built in April 1919 as an artillery fire control car for use with one of the big railway guns built during WWI. The car probably had wood siding when built (Texas State Railroad Museum has similar cars with wood siding). The car was later rebuilt with steel sheathing and has trucks built in 1936.
In U.S.Army service, it carried the number ODKX 2. It was probably declared surplus, purchased by a railroad equipment dealer and sold to Clover Valley Lumber Company. The car was used in log trains hauling loggers and supplies to the logging camps in Clover Valley. It may also have been used as a bunk car in remote areas. In that service, it was known as a "cootie car."
The car was donated to the Feather River Short Line Railroad in 1958. The Feather River Short Line Railroad was a non-profit corporation organized to preserve logging equipment from the area. The car was moved to Quincy and stored on the Quincy Railroad. Eventually it was retired and placed on static display at the Plumas County Fairgrounds.
When our museum was getting started, we invited the FRSL to move its equipment to Portola. After several years with us, the outfit car was moved back to Quincy for storage. Because of a need to use the storage space for other purposes, the car was given to the Sloat Mill Company and moved to a siding track at Sloat in 2000.
In 2001 the car was donated to the FRRS and moved to Portola again where she remains today.