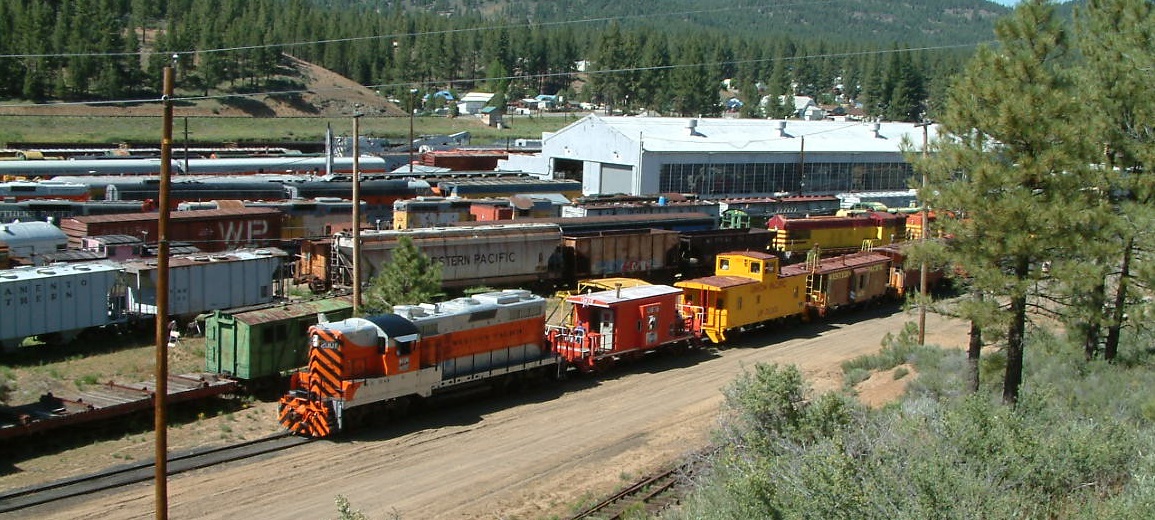 Welcome to the Western Pacific Railroad Museum at Portola. It may look more like your average rail yard to the uninformed and that's for good reason. We wanted it that way. The Western Pacific Railroad Museum invites you to experience railroading in a "Hands-on" environment, just like taking a walk into your local rail yard.
The Western Pacific Railroad Museum is very much a "working rail facility". As such, we ask that you observe a few simple safety rules: Please do not tamper with safety equipment, such as signs, barriers, track switches, or locomotive controls. As our facility is a working rail shop and yard, consider ALL tracks to be LIVE tracks, and as such, expect the movement of Trains and equipment at ANY time, on ANY track, in EITHER direction. Yield the right of way to trains and equipment ALWAYS. Do not get on and off moving equipment, even if you see our train crews doing it. Remember, we're trained, you're not.
If volunteers are working on a project, you are most welcome to watch and take photos; however, we ask that you observe all safety devices for your safety as well as ours. Do NOT open ANY electrical panel marked as such. Just observe simple safety common sense and enjoy your railroading experience as you step back in time to the romantic era of railroading.
Never climb under, on top of, or go between any equipment.
When getting on and off equipment, climb up or down the stairs or ladder facing the locomotive or caboose.
If you have any questions please ask a volunteer or one of the museum staff members. Please have a safe and enjoyable visit.
Welcome aboard!