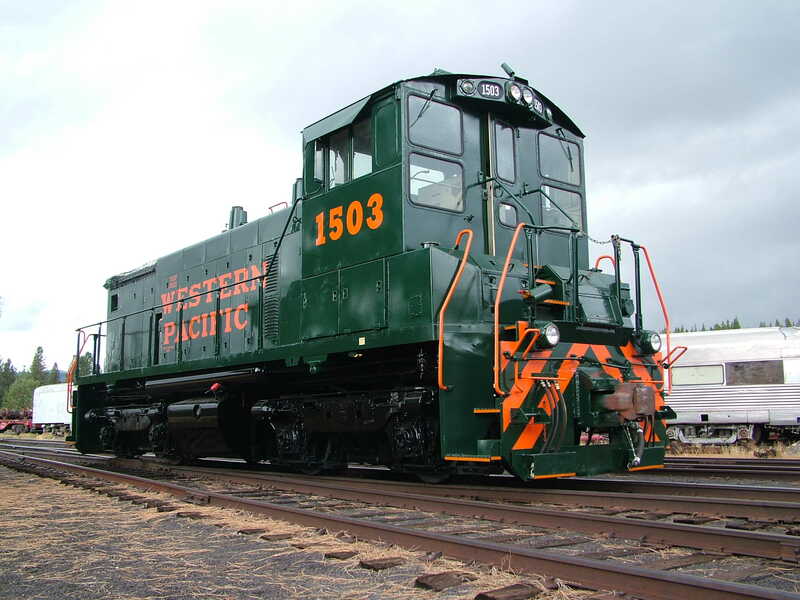 This locomotive is part of our Run-A-Locomotive program, where you get to take the throttle and experience running one of these historic pieces of equipment.
| | |
| --- | --- |
| Builder | Electro-Motive Division of General Motors |
| Built | May 1973 |
| Type | SW 1500 |
| Horsepower | 1500 |
| Serial number | 72692-3 |
| Top speed | 60 MPH |
| Operating weight | 257,870 lbs |
| Acquisition | UP donated the 1503 to the FRRS in October 2011 |
Western Pacific 1503 was built in La Grange, Illinois at the Electro Motive Division of General Motors in May of 1973 at a cost of $207,134. As part of an order of three locomotives numbered 1501-1503. These three locomotives were the last switching locomotives built for the Western Pacific. The 1503 could usually be found throughout the 1970's and 80's working the industrial areas of San Francisco.
Due to the merger between the Western Pacific and Union Pacific in December of 1982, the UP retired older Western Pacific locomotives, selling several to shortlines, scrapping a few and graciously donated several to the brand new Feather River Rail Society. The SW1500's however, were a very modern engine and were retained for use by the UP. Soon, the small fleet was repainted in Union Pacific's Armour yellow and Harbor Mist gray scheme and sent back to work in the San Francisco bay area and Stockton.
Eventually, UP decided to sell off its SW1500 fleet, opting for small road switchers instead to fill in for the local and switching duties often handled by the 1500's and auctioned them off to various shortlines and leasing companies. WP 1503 joined her sisters on the auction block in East St. Louis Illinois in 2011. At a time when most large road locomotives went for around $150,000 at auction, SW1500's because of their dependability, rugged power, small stature and the fact that nobody has mass produced a switch engine since the EMD 1500 series, most SW1500's went go for upwards of $200-$250,000 at auction.
Realizing the historical significance of the 1503 being the last switcher built for the WP, FRRS President Rod McClure appealed to the Union Pacific to donate the engine for preservation at the Western Pacific Railroad Museum. In October 2011, the UP graciously donated the 1503 to the FRRS.