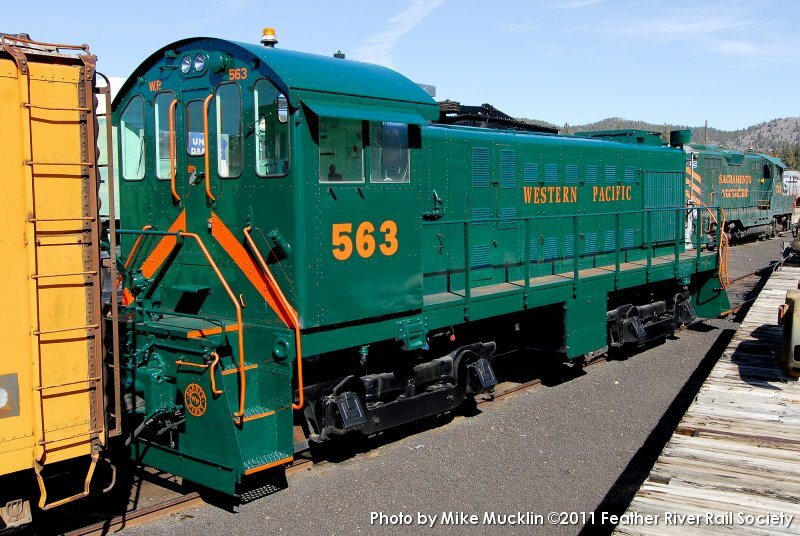 | | |
| --- | --- |
| Builder | American Locomotive Co. |
| Built | May 1951 |
| Type | S-4 |
| Horsepower | 1000 |
| Serial number | 78777 |
| Top speed | 45 MPH |
| Operating weight | 231,000 lbs |
| Acquisition | Purchased by two society members and donated to the FRRS |
About 1991 the FRRS made an inquiry to Foster Farms to acquire former WP 563. This 1,000 hp ALCo S-4, one of only two owned by WP, was purchased by Foster Farms in December, 1976, and used as a switcher at their Livingston, CA feed storage facility. It was replaced by a former SP ALCo S-6 and remained as a standby unit and later as a parts source.
In October 1996 we were notified that the unit was available at a reasonable price. However, since the museum's financial condition was not as strong as we would have liked, Norman Holmes and John Ryczkowski agreed to purchase the locomotive, restore it to operating condition (unless major problems are revealed) and then donate it to the museum.
Western Pacific #563 was one of only two switch engines on the system to have been painted in all of the WP's switcher paint schemes over the years. Delivered in 1951 in black and white paint, (like the WP 501 and 512), she has worn silver and orange, solid orange, and in the 1970's, was painted in Perlman Green and orange paint.
WP took delivery of two Alco S-4 1,000 hp units in June 1951. After serving the required time in Nevada to avoid California sales tax the units 563 and 564 were sent to Keddie to work the Westwood turn.
Later EMD's GP7s took over the Westwood turn, releasing the Alcos for service elsewhere. 563 then spent time in San Francisco and San Jose.
By the mid 70's WP's Alco switching days were over. Number 563 was sold in October 1973 to the Central California Traction. Number 563 worked on the CCT until November 1976 when it was returned to WP in exchange for RS-1, TS 746. WP immediately sold the 563 to Foster Farms for switching duties at its Livingston feed storage facility. It served Foster Farms until 1985.
In October 1996 the unit was offered for sale to our Society. Our organization did not have sufficient funds for the purchase at the time so two members purchased the unit and then donated it to the FRRS.