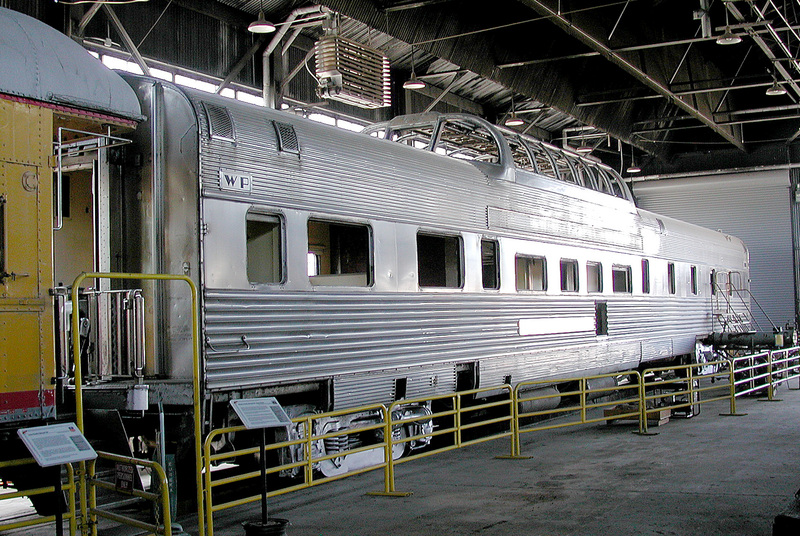 WP 832 – California Zephyr Vista Dome Lounge-Dormitory Car
This car, named the "Silver Hostel" was built by the Budd Company in November 1948. The "Silver Hostel" was the lounge-dorm car on the very first eastbound CZ and served until the end of CZ service.
This car is one of six Vista Dome-Lounge Dormitory cars built as part of the original CZ car order. The dome is its most noticeable exterior feature. An icon of the CZ, this 24 seat "penthouse" would be one of five on a CZ consist, trailing immediately behind three dome coaches. The car resided near the middle of the train, leading the diner, sleepers, and the rear dome observation car.
The buffet lounge occupies one end of the car, with the kitchen located under part of the dome. Here, passengers ordered snacks, drinks, and light lunch items. In the early 1960's, all six cars were remodeled as "The Cable Car Lounge", designed around a San Francisco theme. This variant would become nationally famous as the subject of many well-remembered ad campaigns.
The dormitory section provided quarters for members of the CZ crew, including bedrooms for the Zephyrette hostesses. All crewmembers shared a full bathroom located under the dome.
After passing through many owners, the "Hostel" was purchased by the FRRS for restoration and display.
The original California Zephyr ran over the Chicago, Burlington and Quincy Railroad from Chicago to Denver; the Denver and Rio Grande Western Railroad between Denver and Salt Lake City and the Western Pacific Railroad from Salt Lake City to Oakland. Cars owned by different railroads ran together in the train.