Western Pacific Maintenance-of-Way 27-2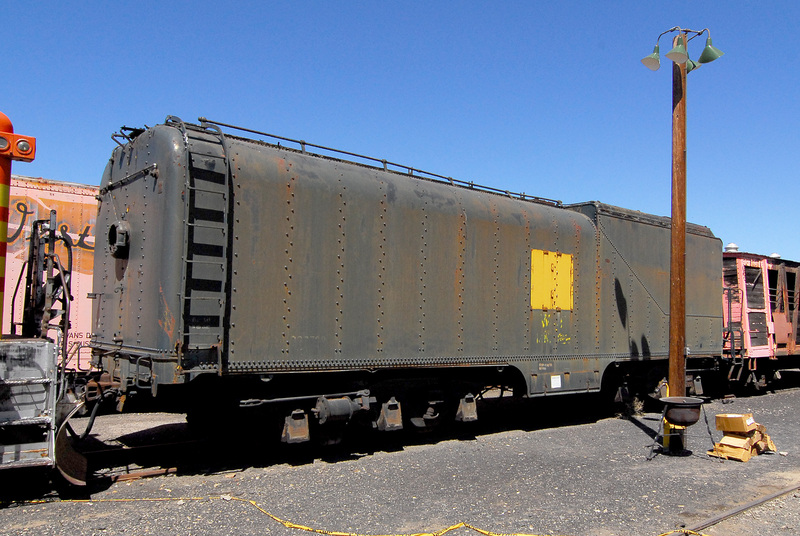 Western Pacific Maintenance-of-Way 27-2 was last used as the fuel and water tender for WPMW derrick 27. Lima Locomotive Works originally built it in July 1943 for use with steam locomotive WP 484. It has a capacity of 23,000 gallons. This tender is the only remaining tender from the Western Pacific's GS-64 series locomotives.
Western Pacific No. 484 was a Class GS-64 semi-streamlined 4-8-4 "Northern" type steam locomotive. The locomotive spent years working on the Western Pacific Railroad hauling passenger trains and in freight service as well.
No. 484 was retired when the Western Pacific dieselized and they sold her to the Southern Pacific railroad for spare parts.
In 1953, when locomotives WP 481 - 486 were retired, three tenders were saved, those from 481, 484 and 485. They were then renumbered 81, 82 and 83 respectively and outfitted as diesel-water cars for maintenance-of-way service.
WP Rotary 3 got tender #81 and Rotary 4 got tender 82 and 83 was a spare and scrapped just a few years later. Tender 82 was renumbered to WPMW 27-2 in the early 1970's and assigned to derrick 27.
Special thanks for research by Chris Jacobsmeyer.