Western Pacific Maintenance-of-Way 37-10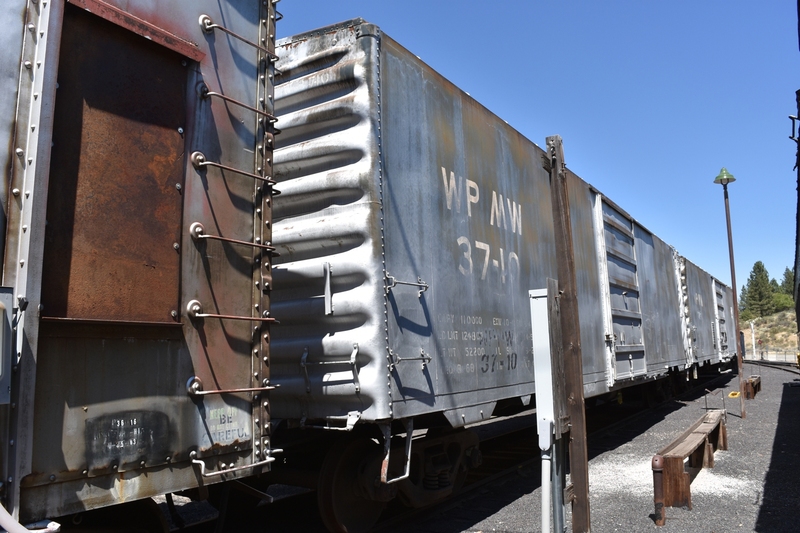 | | |
| --- | --- |
| Builder | Pullman-Standard |
| Builder Lot Number | 8240 |
| Built | July 1955 |
| Type | PS-1 XM Box Car |
| Volume | 4844 cubic ft |
| Capacity | 50-tons |
| Operational Weight | 52,000 lbs |
| Interior Length | 50 ft 5-9⁄16 in |
| Interior Width | 9 ft 2-1⁄16 in |
| Interior Height | 10 ft 5-1⁄2 in |
| Length Over Strikers | 51 ft 10 in |
| Overall Width | 10 ft 5-1⁄16 in |
| Overall Height | 14 ft 11-15⁄16 in |
| Clear Door Opening | 8 ft 0 in wide X 9 ft 10-5⁄16 in high |
| Door Type | Superior 6-panel sliding |
| Trucks | Scullin A-3 Ride Control |
For most of its history, Tidewater Southern was a subsidiary of the Western Pacific Railroad. The Tidewater's 501 series boxcars comprised 25 cars delivered in July of 1955. They were the first real fleet of interchange freight cars owned by the railroad.
In 1975, the WP made plans to renumber all the former Tidewater Southern 501 series boxcars into its 36026 series, behind its own single door PS-1s, however this was not done quickly nor did it reach all the cars. TS 521 was renumbered directly into WP MOW service as WPMW 37-10.
WPMW 37-10, the former Tidewater Southern 521 boxcar, is now used for storage and is slated to retain its silver paint.
She came to us when elements of the WPMW 37 wreck train were given to the museum. When the light is just right, you can still see the remains of the colorful cornucopias under the thin MOW silver paint.